Work spaces on Campus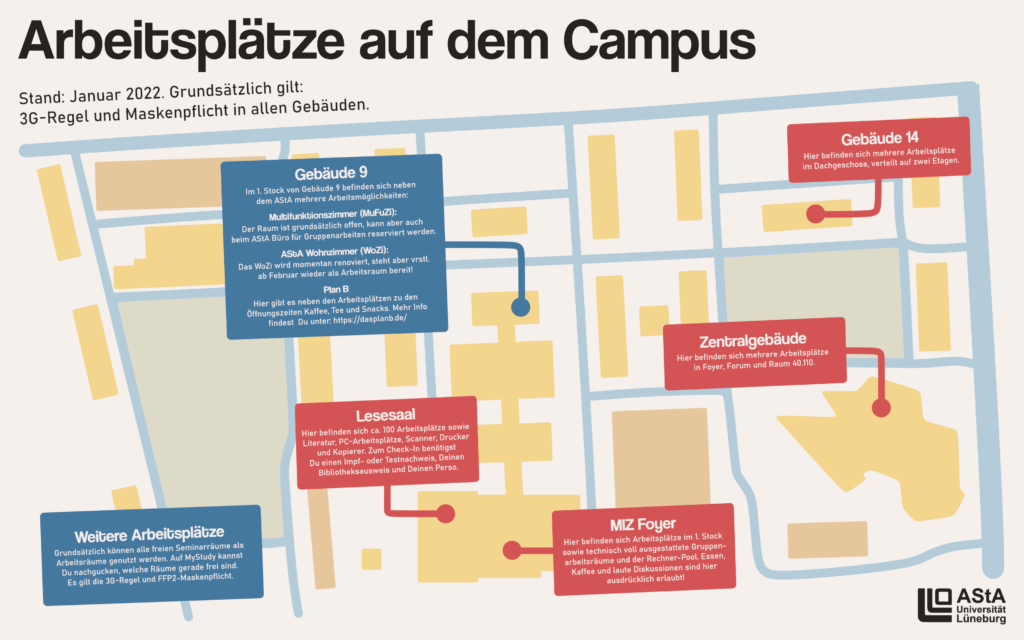 To make sure that you find a quiet place to work in the upcoming exam season, we created an overview with all available work spaces on campus. Please keep in mind that the 3G rule and the mask mandate apply in all university buildings.
An overview and further Updates can be found on the page of the Media and information center (MIZ).
Reading room
Here you can find around 100 workstations, along with literature, PCs, scanners and printers. To check in, you need a vaccination passport or a recent rapid test as well as a library card and your passport.
MIZ Foyer
On the first floor, there are workstations as well as rooms for group work equipped with multiple technical gadgets as well as PCs. Unlike in the library, coffee, food, and discussions are allowed here!
!! Recent Update: Working space in the MIZ Foyer is not available, only the group rooms are !!
Central Building
There are multiple work spaces in the foyer, the forum, and room 40.110.
Central building
There are multiple work spaces in the foyer, the forum, and room 40.110.
Building 9
On the first floor, there is not only the AStA but multiple working spaces as well:
MuFuZi
This room is usually open, but can also be booked for group work in the AStA office.
WoZi
This room is currently being renovated, but will probably be available again in February!
Plan B
This room has not only working space, but also coffee, tea and snacks during the opening hours of the café. For more info check out their website.
Other work spaces
Generally, you can use seminar room on the campus to work in. On myStudy you can check which rooms are currently available. As everywhere on the campus, the 3G rule and the mask mandate apply.
Digital workplaces
The Writing Center offers "Time to Write!" digitally via Zoom, during which you can work with others on your project. Feel free to sign up for this via myStudy. For more info, visit the Writing Center website.
We also provide Zoom rooms for you to study undisturbed for more than 40 minutes. You can simply fill out the form and we will send you the data by mail.
Open meeting place at Mosaique (Katzenstraße 1, city center)
The meeting place is an open, protected space suitable for having a coffee in a casual atmosphere, talking or working with people from all over the world. Mon to Thu, 2 p.m. to 6 p.m. (2G+ rule)
More info here.