Welcome to the AStA Office!
The AStA office team always has a friendly ear for you (the other one is usually busy on the phone…)!

If you have any questions, problems, or ideas, we will try to point you to the appropriate AStA and university institution that is important for your issue. We are also happy to help you find examination regulations, responsibilities, orders, telephone numbers, committees, or "just" lost things – just ask us, we will try to help you.

We are back! Since Monday (14/06) our office and our hire service are back! We look forward to your visit in building 9 – of course with FFP2 or surgical mask and 1.5 meters distance. 🙂
Services
Please contact the AStA office in advance via email/telephone to ask for available items and bookings.
On the day of the hiring, please enter building 9 only through the front door and with a face mask (FFP2 or surgical).
When renting, please line up at the counter in front of room C9.103 and heed the markings on the floor
Contracts and forms are signed and handed out over the counter
Furthermore, questions can be answered over the counter, lockers can be assigned, ISICs can be issued, keys can be handed out, rental logs can be filled out and items can be lent.
The AStA spokespeople are also available at the counter to answer your questions.
This is our office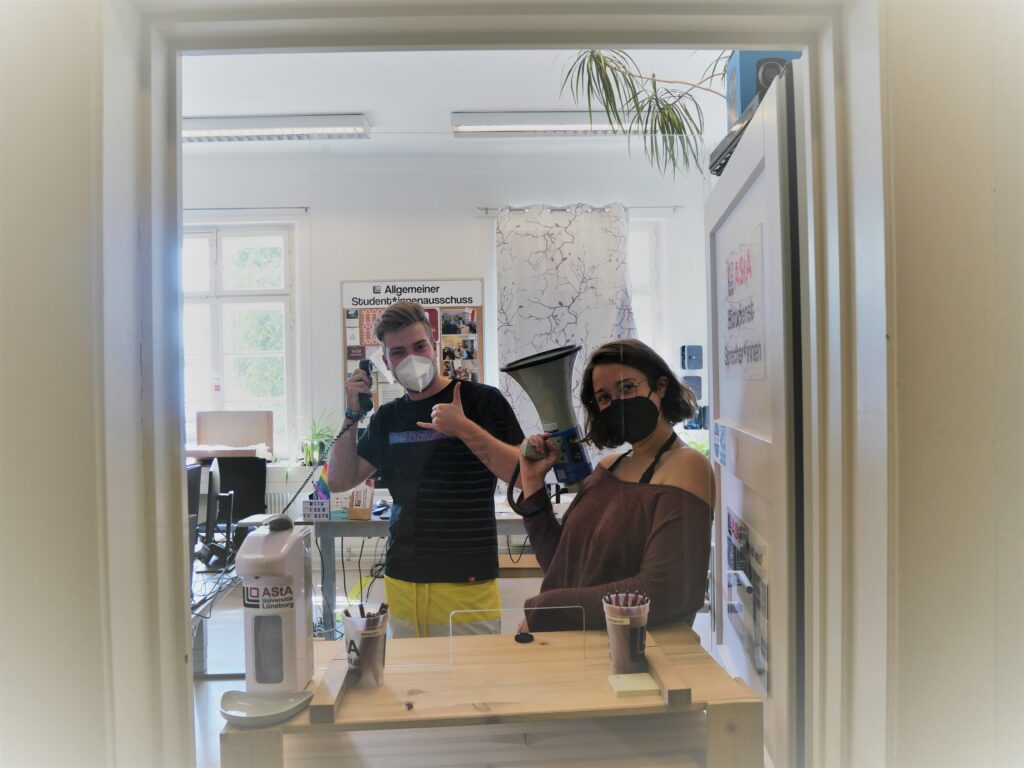 This is us
Isa
Field of study: Teaching at GHR (art and German)
Favorite canteen meal: Pasta
Coffee: Black like my soul.
Which playlist?: Electronic Beats
Ansgar
Field of study: VWL 🙁 & Digital Media/Information Technology & Culture
Favorite canteen meal: soy gyros with fries
Coffee: only out of a Lüneburger Christmas market mug
Which playlist?: Post Punk
Markus
Field of study: Political Science and VWL
Favorite canteen meal: Wedges with garlic dip
Coffee: no.
Which playlist?: the one I don't know already
Philine
Field of study: Political Science & technically Law
Favorite canteen meal: I am still flexible
Coffee: preferably tea :))
Which playlist?: various and podcasts
Lotte
Field of study: Political Science & Sustainability Science
Favorite canteen meal: vegan sausage goulash
Coffee: I can't say no to that
Which playlist?: whatever I am in the mood for