At the beginning of each new semester, you receive your own "SemesterTicket". This ticket enables you to use bus transport in Lüneburg as well as regional trains in all of Niedersachsen (Lower Saxony) for free – this ensures you always can be on time for your classes and lectures. To finance this, you are required to pay a relatively small contribution fee each semester. The offer is made possible through the solidarity principle, which means that every student pays the fee. For the ticket to be valid, you need both the SemesterTicket and an official photo ID (national ID card, driver's licence or passport). You must not laminate your SemesterTicket or it becomes invalid.

If you lose your semester ticket (which also has your student ID on the back), you can report this to the students' services (building 8) and receive a replacement for 5€.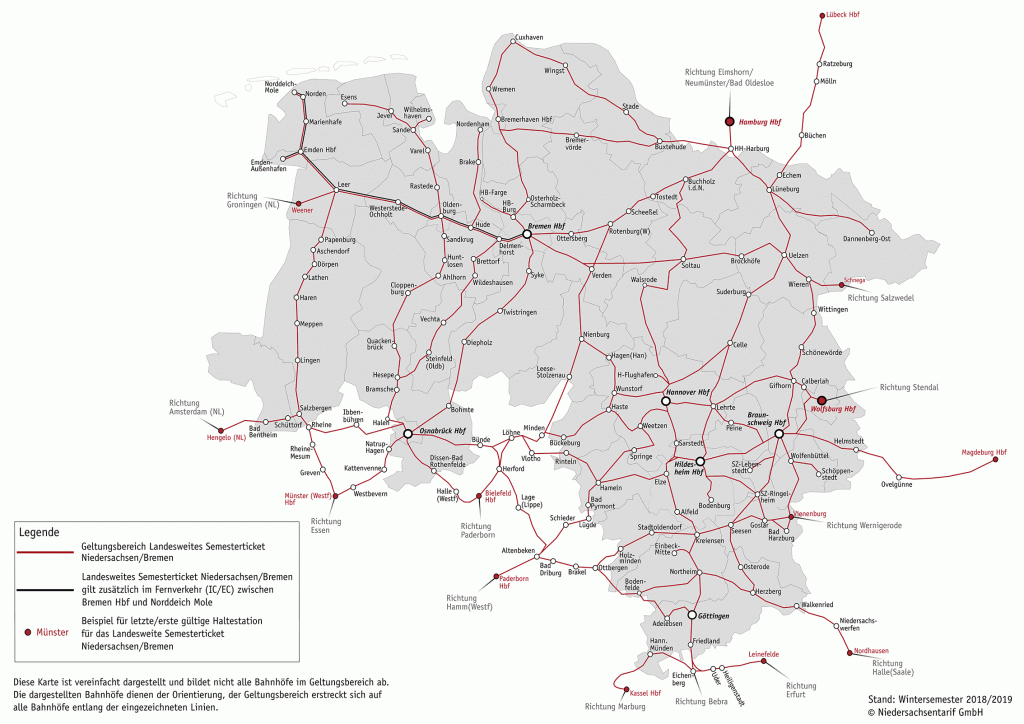 You can find the complete route network here.

Also included in your SemesterTicket are:
All busses in the city and county of Lüneburg (operated by KVG)
Radspeicher Lüneburg (the bicycle park at the train station). Please note: At the beginning of each semester, you have to obtain a (new) pass at the counter.
SemesterTicket Kultur
StadtRad Lüneburg


The semester ticket does not cover:

HVV network (no busses, underground or commuter trains in Hamburg) – sole exception: S3 commuter train on the route Hamburg Hbf – Stade and S31 Hamburg Hbf – Neugraben from December 10, S3 from Hamburg Harburg – Neugraben and S5 from Hamburg Harburg – Stade
Busses, trams and underground trains in Hanover
Interregio Express on the route Hamburg – Lüneburg – Uelzen – Berlin
taking your bicycle on the train (permitted on KVG buses, as long as space is available)
The train route between Hamburg Hbf and Büchen


Ticket

Your SemesterTicket (which is also your student ID) is valid only in combination with an official photo ID (national ID card, driver's licence or passport).

Exempt from paying for the SemesterTicket are, according to our contracts:
Students on leave
Students on distance-, online- and further learning courses (absence for at least 120 days)
Guest auditors
Evening course students
Severely disabled students (must hold the pass with a valid stamp in accordance with a hardship application)


Hardship cases and refunds
Information about refunds for the SemesterTicket due to hardship cases can be found here.